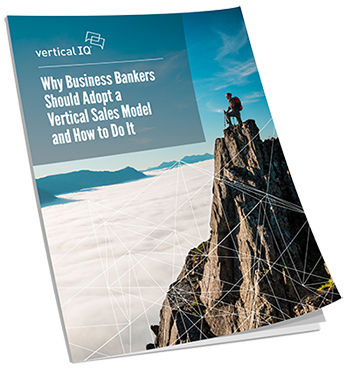 It's pretty conclusive: The generalist sales model may still reign supreme for today's business bankers, but your customers want more. They're growing weary of this tired sales model that merely pushes product, place, and presumed or past relationships while ignoring the unique challenges that face their respective industries.
Customers increasingly want bankers who understand their business and who have the capacity and knowledge to work with them collaboratively, as a trusted advisor, to solve the distinct dilemmas they face every day.
The expectation that service providers possess specialized knowledge is commonplace in most other industries. Using healthcare as one obvious example, patients seeking dental care don't expect a dermatologist to be able to help them. Of course not. They seek out a specialist: a dentist.
The best way for bankers to solve this problem is through industry specialization.
First, identify an industry vertical that you would like to target...maybe it's carwashes or commercial printers. Next, review the in-depth information about that industry found on the Vertical IQ Industry Profile. By using this industry-specific information, you can prepare for your client or prospect calls more effectively--in as little as five minutes--learning about the inner-workings of their industry and how you, as a banker, can help them address the challenges and opportunities that are common within their vertical.
By using Vertical IQ's research, you will be able to write targeted letters that resonate with prospects. You'll have conversations with clients and prospects that are tailored to their industry, asking relevant questions about their business. You will find timely industry-focused articles on Vertical IQ that you can share as a powerful leave-behind. And the best part is we've done the legwork for you. Just five minutes of call preparation will increase your industry-specific knowledge exponentially!
The benefits of making this adjustment to your overall sales success are numerous, including:
Better customer acquisition

Increased referrals

Enhanced customer retention

Faster turnaround on business analysis
So, how can you incorporate industry specialization into your sales process? Through downloading our white paper which explains exactly how to do it.